XAGUSD – Commodity
XAGUSD
Swap point Long/Short
-130.00 / -122.00
Nominal Value of one lot
1 000
Trading hours
01:00 - 24:00
Instrument description
Silver is a popular metal that has a distinctive white shiny appearance. Silver as a metal is a good conductor of electricity, which increases its value and usage in industrial applications. Silver is soft, flexible, and shiny, which makes it a precious metal and one that is widely used to make jewelry items such as rings, bracelets, earrings, and necklaces. Silver is also used in electronics, medicine, and energy.
Since ancient times, silver, along with gold, have been two of the most precious metals and also used as a mode of currency before the paper currency was introduced. Silver, gold, and platinum make up the list of rare and precious metals that are actively traded in the commodity market. The main uses of silver are
Silver has a lustrous and striking appearance, which makes it best for making numerous jewelry items as pure silver is quite soft, which is why sterling silver is used to make rings, bracelets, and earrings. Sterling silver contains 92.5% of pure silver and 7.5% of copper or nickel that provides the necessary strength and durability to the metal.
Due to its chemical and physical properties, silver is used in different sectors such as:

Electronics: Due to good electrical conductivity, silver is used in Television screens, printed circuit boards, and switches.
Catalysts: Silver acts as a catalyst and is involved in the production of formaldehyde and ethylene oxide.
Solar: The silver powder is used to make solar-powered cells.
Ball Bearings: Silver electroplating is used to strengthen ball bearings.
Soldering: Silver is used to ensuring a strong connection of faucets, pipes, ducts, and electrical wires.
Medicine: Silver is known as a bacteria killer and eliminates harmful germs.

Silver is used to diversify an investment portfolio and protect the investments from inflation. Investors also have the option to buy silver coins, bars, and funds to invest in silver
Silver is not a native element that is extracted from the Earth's crust, but silver is a byproduct when other metals such as lead, zinc, gold, and copper are mined. The drop in silver production is due to a reduction in gold, lead, and zinc production. Mexico is the global leader in the supply of silver, while the USA is the leading consumer, followed by China and India. The top five silver producing countries (in a million ounces) are
Mexico - 186

Peru - 148

China - 112

Chile - 48

Russia – 46
The silver reserves indicate a measure of silver that can economically be mined from the ground. But silver is mining is quite expensive, and there are so many factors to consider that price of silver is determined on whether it is feasible to mine silver or not. The top five countries with most silver reserves (in thousands Metric tons) are
Peru - 120

Australia - 90

Poland - 85

Chile - 77

China - 39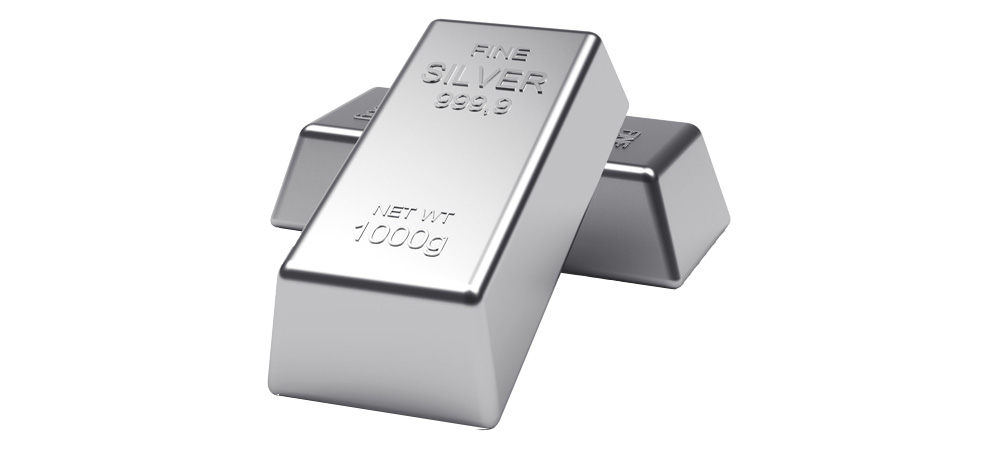 History of Silver
People have used silver since 3000 BC, and with the advancement in technology, more test and experiments revealed the chemical properties of silver and its important uses. Asia was the first region where silver was mined 5000 years ago, and then 1800 years later, silver was used as currency in the Greek Empire and the Roman Empire. Silver became a vital trading commodity among civilizations.
The crucial moment in the history of silver as a commodity was in the 15th century due to the Spanish conquest of the New World. Silver mining increased in Mexico and South American countries of Peru and Bolivia from 1500 to 1800 AD, and these three countries contributed to 85% of silver production at that time. In the USA, silver mining started around 1850, but the extraction of silver in other countries such as Australia, Europe, and Central America increased the capacity of silver.
Silver has been mined for centuries, but the production and reserves of silver are still limited. The US Geological Survey issued a report in 2004 that estimated the amount of silver that has been mined at 1.26 million metric tons, where more than 50% was mined in the last 60 years. The recent estimations suggest that the total quantity of silver ever mined is 1.5 million metric tons.
What is the significance of XAG/USD

The chemical name of silver in the periodic table is given by 'AG' which is derived from the Latin word Argentum. In the XAG/USD forex quote, the XAG stands for the value of silver, and USD represents US Dollar. The XAG/USD is a currency exchange similar to EUR/USD that shows how many US Dollars is required to buy one Euro.

The XAG/USD quote shows how many US Dollars are needed to buy one unit of silver (one troy ounce).
Supply and Demand of Silver
Like all commodities, the price of silver heavily depends on its supply and demand. Silver is mined for centuries but still produced in limited quantity as silver is a byproduct of gold, lead, and zinc. The supply in silver production is declining due to the high cost of silver mining. However, the demand for silver remains stable and even increases due to silver use in jewelry and industries.
Investors should pay close attention to the factors that impact the supply/demand imbalances of silver. The mining strikes could limit the supply of silver, but the discovery of new silver deposits can increase the supply of silver and help to meet the growing demand.
How to read the price change of Silver
Silver is a precious and valuable commodity that is traded on the New York Mercantile Exchange (NYMEX), Chicago Mercantile Exchange (CME), and London Metal Exchange (LME). Silver is actively traded for 24 hours and 6 days a week on the CME Globex, which is a global electronic trading platform. The symbol of wheat on the CME Globex is 'SI,' the price quotation is in USD per troy ounce, and the contract unit is 5000 troy ounces. The trading hours are 22:00 and 20:59 (GMT).
In the UK, the timings are Sunday to Friday from 6:00 to 5:00 P.M. The timings to trade silver CFDs are
Monday to Thursday, 00:00 – 21:00 and 22.05 – 00.00

Friday, 00.00 – 21.00; and

Sunday, 22.05 – 00.00
When we examine the silver price chart, we see the silver prices trading from $17.000 to $19.000 per troy ounces from October 2019 to the last week of February 2020. There is a sudden decline in silver prices in March, and the price falls to its lowest value of $13.082 on March 19, 2020. The silver prices slowly rise in April, and we can see Bullish trends in May. The current value of silver is also its highest value in the past six to seven months; the current price of silver is $19.440. The Bid price is $19.461 while the Ask price is $19.442
The all-time highest value of silver was $49.45 per ounce in January 1980, while the all-time lowest value was $3.55 in February 1991.
How to Trade Silver
Silver is a precious metal with a significant value, but trading silver can be both challenging but an opportunity to magnify your gains. Both trading and investing in silver can serve to reduce the risk of financial losses and diversify an investment portfolio as silver retains its value in economic ups and downs. Also, the need for silver will increase due to its essential industrial use and the demand for extravagant and exquisite silver jewelry items. The popular ways to trade in silver are Futures, Options; Exchange Traded Funds (ETFs), Contract for Difference (CFD), Bullion, and Shares
The future is a derivative tool where you place leveraged bets on the silver prices. Silver Futures contracts are offered on the CME Globex with a minimum contract of 5000 troy ounces which equals to 155.5 kg. But you have to pay the interest rates and storage when dealing with Futures. At expiration, the contract is settled by the physical delivery of silver.
Another way for trading silver is by using CFD, which is a derivative contract that allows speculating the price movements from the opening to closing of a trade. You have the option to use leverage, which for instance,with a leverage of 1:10 to trade $1000 worth of silver, you only need $100. With CFDs as you are predicting prices of the underlying asset, there is no hassle of physical buying and storing of silver. Also, you can trade in both directions that is going Long or Short when trading silver.
The most common way to invest in silver is by buying silver bullion, but you have to consider the storage costs of silver. Another simple way to gain from silver is by investing in shares of companies that mine and produce silver. When the silver prices rise, you get the profit. Some of the companies to buy a share from are Wheaton Precious Metals, SSR Mining, Pan American Silver Corp, Great Panther Silver Limited, Hecla Mining, and First Majestic Silver Corp.
What causes the price change of Silver?
Silver is regarded as quite a volatile market, and the value of silver in the commodity market is influenced by many factors that include
Supply and demand is the main factor that influences the price of silver. The demand for silver mostly comes from the jewelry and industrial sector, but silver is hard to produce and is also produced in limited quantity. The demand for silver has increased from an investment perspective, and an increasing number of investors interested in investing silver can increase the price of silver
The industrial demand for silver impacts the price of silver. Silver was widely used in most of the industrial applications, but development in other metals has somewhat diminished the value of silver. For example, stainless steel and other aluminum alloys have replaced silver in many applications. However, the need for silver will remain in circuit boards, water purification, and solar-powered cells. Almost 50% of silver is used in the movie industry in making sensitive materials that reflect light.
Silver shares a strong correlation with gold, and many traders and investors need to watch both the gold and silver prices closely. The ratio is used by many traders to either sell or buy one of the precious metals.
Apart from mining, silver is also produced by recycling scrap metal. The silver from the scrap metal can increase the supply of silver and also help to determine the price of silver. One major source of scrap metal was the photography industry, but with advances in the field of digital photography, the value of silver has diminished. Most of the silver is generated by recycling photographic films and old silver ornaments. When the silver prices rise, the additional silver from scrap sources can curtail the silver prices.
Nearly all the commodities are priced in US Dollars, so the value of the US Dollar is also a particular factor that affects the price of silver. There is a strong inverse relationship, which means when the USD rises, the silver prices fall, and when the USD declines, the price of silver increases.
Silver is also a popular source of investment as metals such as gold and silver can retain its value in economic crisis, inflation, and devaluation of the currency. Silver retains its value, which is why many investors tend to invest in silver bars, coins, and funds. Both trading and investment promise to increase your profits, but with a certain degree of risk, and traders and investors should gather information on the silver market and know about the trends before making a strategy.
The information above is for education purposes only and cannot be considered as investment advice. Past performance is not reliable indicator of future results.
Available Commodities CFDs on R1investing
Open your account and enjoy our benefits
CYSEC regulated
Zero commission
PC, web, mobile trading platforms
Dedicated account manager
Spreads starting from 0.03
Leverage up to 1:200
Fast withdrawals
Education spot
Open account